CLOSE OUT FESTIVAL SEASON WITH JIBBERJAZZ PRODUCTIONS!!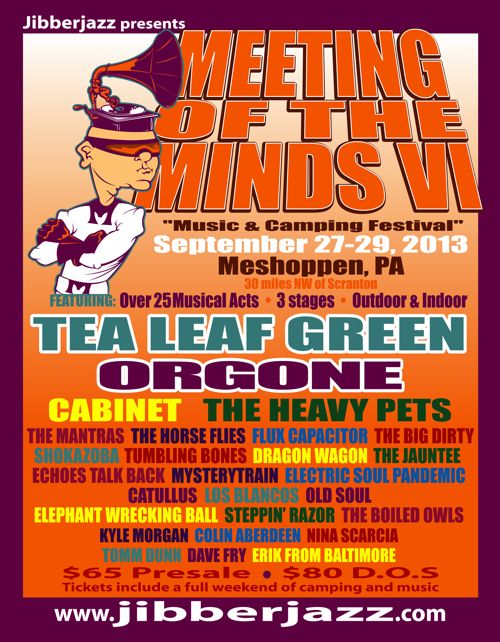 Jibberjazz Presents
MEETING OF THE MINDS VI
"Music & Camping Festival"
September 27-29, 2013
Meshoppen, PA
(30 miles NW of Scranton)
27 Musical Acts* 3 Stages *Outdoor & Indoor
http://www.jibberjazz.com
FEATURING:
TEA LEAF GREEN
ORGONE
CABINET
THE HEAVY PETS
THE MANTRAS
THE HORSE FLIES
FLUX CAPACITOR
THE BIG DIRTY
SHOKAZOBA
CATULLUS
DRAGON WAGON
THE JAUNTEE
ECHOES TALK BACK
MYSTERYTRAIN
ELECTRIC SOUL PANDEMIC
TUMBLING BONES
LOS BLANCOS
OLD SOUL
ELEPHANT WRECKING BALL
STEPPIN' RAZOR
THE BOILED OWLS
KYLE MORGAN
COLIN ABERDEEN
NINA SCARCIA
TOMM DUNN
DAVE FRY
ERIK FROM BALTIMORE
$65 Presale * $80 DOS
Tickets include a full weekend of camping & music
http://www.jibberjazz.com
MEETING OF THE MINDS VI:
a full weekend music & camping festival , featuring 27 musical acts, 3 stages , solo artists, food & craft vendors, late-night indoor jams, kids activities, light shows, fire performances, parade, yoga, workshops and much more.
MUSIC:
Jibberjazz events showcase a variety of musical styles including Jam, Folk, Funk, Bluegrass, Blues, Rock & Roll, Reggae, Americana, World, Jazz etc etc. Artists drawn from all corners of the USA!
VENUE:
a rustic but scenic fairground, featuring outdoor & indoor stages, plenty of camping space, nature trails and limited electricity access for RV's.
TICKETS:
Presale tickets are $65 and include a full weekend of camping & music. All events are B.Y.O.B. for those of age
Since 2005, Jibberjazz festivals have drummed up a buzz in the underground by showcasing heavy-hitting out of market bands, national acts, and up-and-coming regional talent. These festivals have developed a dedicated following throughout the region. Creative line-ups, killer music, and good people are what Jibberjazz is all about. Now let's get to wild dancing!
http://www.jibberjazz.com